Belgian's 'mad hatter' also milliner to queen of hearts
BRUSSELS, Dec 14, 2010 (AFP) - In Belgium, the country of surreal art and comic books, mad hatter Christophe Coppens is perfectly cut out for his part as designer of fantasy headgear for the likes of pop star Rihanna, and milliner to the king.
Quiet Coppens, tall and easy going with a Peter-Pan smile and fondness for bicycling about town, last month became a recipient of the royal warrant -- as hatter to Belgium's popular royals, Albert II and Queen Paola.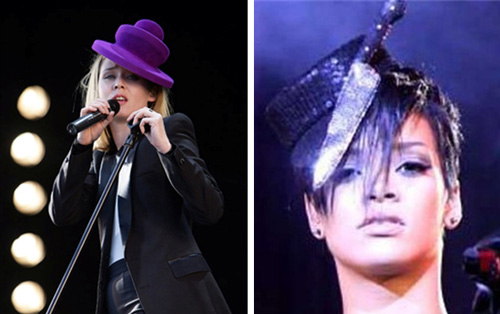 Roisin Murphy and Rhianna wearing Christophe Coppens
Perhaps not surprisingly, royal-watching hat-fanatics puzzle at times on the Internet over headpieces outed by Queen Paola and daughters-in-law Princess Mathilde and Princess Claire -- though Coppens is not their sole source.
"These strangely moulded hats are becoming a thing," said someone on madhattery.royalroundup.com. "I mean the hats are interesting and all, but something about the shape reminds me of those crazy hooded dinosaurs from Jurassic Park."
Coppens doesn't like to elaborate on commissions from his royals, saying "I treat them like all my clients."
But for every queenly hat, he admits in an interview, "there is the protocol," so a piece must be "classical but interesting".
"There are certain rules," he adds when pressed. "The hats must be discreet, people must see them and remark on them but not in a negative way."
Yet some Coppens' creations for normal folk would turn most heads.
The black pill-box Rihanna wore for the Grammys features a large studded dagger hanging to the eyes. "Gossip" star Beth Ditto bought a high fan-shaped number and in video-clip "Pop Goes The World" sports Coppens' skulls as pads on either shoulder.
With his hats that take 25 to 30 hours to construct, he befriended Irish singer Roisin Murphy who once wrote they had "found common ground in a love for practical absurdity, a dark silliness and a simple beautiful line."
Coppens has yet to attain the star status of other Belgian "mad hatter" Elvis Pompilio, but in a country famed for spawning the best of Europe's cutting-edge design -- Martin Margiela, Kris Van Assche, Dries Van Nottens or Anne Demeulesteer -- his empire is steadily growing.
Yet the 41-year-old dreamt as a child of becoming an actor but "realised at acting school I was no good at it."
He then tried directing "but I didn't like working with others" so took a failed dab at stage costumes and scenery -- which brought him to hats.
Needing headgear for a play, he met a 76-year-old village milliner who first refused to teach him, saying, "You're too young. This is a serious craft." But in the end she relented and for a year Coppens kept coming back to learn.
"I loved it," he says. "It was just me and matter. I didn't need anyone, I could be alone and do something with my hands."
Born in the Dutch-speaking Flanders region of Belgium, Coppens' showroom has hats posing as big shiny teddy-bears and techni-coloured alligators.
"A hat is the most mysterious accessory," he said. "It will change a silhouette, it can bring a note of humour.
"A hat can be prominent, but even then you have to be sure it makes a woman attractive," he added. "You have to see the woman first, then the hat."
A sometime performance artist who's tried his hand at ceramics, designer furniture, theatre and other bits and pieces, Coppens shrugs off all pretension to the world of art.
"Being a milliner is part of the fashion trade. I'm no artist. You need courage to be an artist. Fashion is about economics."
And he never wears hats. "It'd be like a baker carrying around his loaf of bread."by Claire Rosemberg
Copyright © 2023 AFP. All rights reserved. All information displayed in this section (dispatches, photographs, logos) are protected by intellectual property rights owned by Agence France-Presse. As a consequence you may not copy, reproduce, modify, transmit, publish, display or in any way commercially exploit any of the contents of this section without the prior written consent of Agence France-Presses.