LONDON - Alliance Boots, the country's biggest pharmacy chain, on Monday 18 May posted an 11.6 percent rise in full-year profit, defying a recession that has hit many of its retail rivals.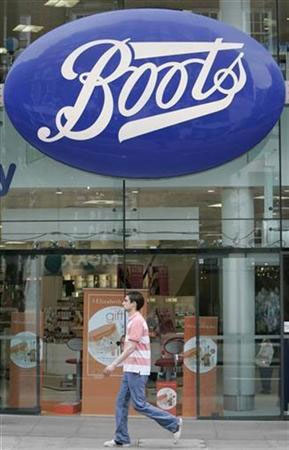 Photo: REUTERS/Toby Melville
The group also said it had performed well since its year end.
"As a result we remain confident about our prospects for the year ahead," said Executive Chairman Stefano Pessina.
Alliance Boots made a trading profit of 953 million pounds for the year to March 31, on a 15.5 percent rise in revenue to 20.5 billion pounds, though after finance costs profit was 101 million pounds.
Revenue increased 4.4 percent in the health and beauty retail division and was up 17.8 percent in pharmaceutical wholesale.
In the group's core British market like-for-like retail revenue increased 1.3 percent.
Pessina said the results reflect "the underlying strength of our two core business activities, the importance of health and wellbeing to both individuals and governments, and the benefits from transforming our group."
Alliance Boots was taken private by Kohlberg Kravis Roberts KKR.UL, the private equity firm, and Pessina in June 2007.
The 11 billion pounds deal was Europe's biggest leveraged buyout and the first time a FTSE-100 company had been taken over by a private equity firm.
A year earlier, the group had been created from the merger of British health and beauty retailer Boots and pan-European drugs distributor Alliance UniChem.
It said on Monday 18 May a 100 million pounds merger cost synergy target had been achieved 18 months ahead of schedule.
By James Davey
(Editing by David Cowell and Mark Potter)
© Thomson Reuters 2021 All rights reserved.